Where There's Smoke
Posted by
69943844
in
black trillium
,
Chris Eccleston
,
Color Studies
,
David Tennent
,
doctor who
,
dyeing
,
Eleventh Doctor
,
exclusive
,
mad mad in a blue box
,
Matt Smith
,
Steven Moffat
,
Tenth Doctor
I love this idea that rumors don't really start themselves. We talk a lot of movie and TV shop in our house, and while it is amazing the amount of sheer fiction floating the waves of the internet with regards to who is going to play what part or what movie might be in production, nothing spawns more speculation (it seems) than Doctor Who. Since I'm not the in-house expert, I probably can't point you to the best sources of information. I am, however, a life-long Doctor Who fan and I'm very happy with all the goings on this year around the
50th Anniversary
and
Matt
's impending regeneration, and I've been batting around color ideas for at least six months in honor of the impending big Five-Oh.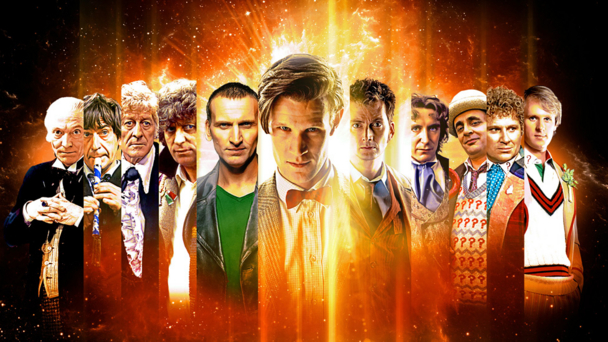 They say you can "date" yourself based on which is "your" Doctor. While this may not work on American folks who weren't as lucky as I was to have total dork parents and have only started watching with Eccleston, there are loads of us children of the late sixties and early seventies that will tell you Tom Baker is The Doctor. My sons are a bit confused, having access to DVD's and such, because they could just as easily tell you Jon Pertwee is the Doctor as David Tennent. This character has had eleven faces (if you don't count the two movies Peter Cushing played the mad man in a blue box), and as a color- and detail-obsessed sci-fi junky I realized early my project needed a more limited scope. I'm not going to say I won't expand later, but let's start with the modern incarnation of the series just to keep the numbers realistic. And then
Matt decided it was time to leave
. 9th Doctor, Chris Eccleston, 2005 - inspired by his love of black leather and that interestingly intense flirtation with the tree-woman from the Forest of Cheem.
10th Doctor, David Tennent, 2005-2010 - this color has been around a while but is now updated for repeatability. Wardrobe was enough for this one, the perfect combination of muted manly colors as if he'd dug through some post-aristocratic rummage sale.
11th Doctor, Matt Smith, 2010-2013 - bow ties, fez's, and Stetsons, oh my! Matt has done an excellent job of conveying The Doctor's dark side, and I don't mind one bit how young he was when cast.
Idris, The TARDIS - most of all, I loved that Neil Gaiman's first episode put the TARDIS consciousness in the body of a woman and that she decided biting was like kissing, only with a winner.
Islington, Peter Capaldi - the yet-to-be-seen 12th Doctor shouldn't be overlooked in my 50th Anniversary tribute, and yet I have no idea what Capaldi's version of the Doctor will be like. Consider this a placeholder until the 12th Doctor is christened.
There you have it, five colors in honor of man with (nearly) 12 faces and his odd blue box.